Launching a site in 3 weeks with Sitecore Commerce Accelerator
Posted by Himadri Chakrabarti
Nish Tech recently launched two Implus brands: Fuelbelt and Harbinger Fitness. We first launched Fuelbelt, then came Harbinger Fitness. We launched Harbinger Fitness in exactly three weeks. This was only possible because of SAFIC. What is the point using an accelerator if it cannot accelerate the implementation? 😊. In this blog, I want to look back to this extraordinary success and explain, how it was possible to launch a brand in only three weeks.
Foundation Work:

We knew success of our implementation of multiple brand depends greatly on how we build the foundation. Like any product, the success of SAFIC also depends on understanding its architecture and plan according to that. We made sure all the foundation work was done properly in the Fuelbelt (first brand) implementation. We made sure basic UI structure, user workflows, and backend integration are architected in a consistent way for the brands. We built a solid foundation as we launched the first brand.

Architecture:

SAFIC's modular and decoupled architecture made it possible to minimize the work because, we could just use what we built in the foundation. For the Harbinger Fitness brand, we only had to work in the area that I circled in the following diagram. The major amount of time we spent was not creating pages and controls but, changing CSS.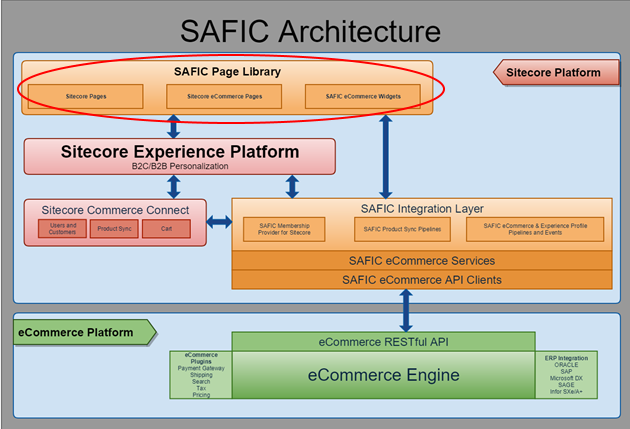 Information Architecture:

Other than making CSS changes and minor code changes, we had to load content both in Sitecore and in the eCommerce system. SAFIC's consistent Information Architecture made it possible to quickly build the initial content from a base content site and used the same rendering and controls for multiple brands.

Multi-Site Product Sync:

Product Sync loads data from the eCommerce system to Sitecore.

SAFIC Product Sync is designed to work with multiple eCommerce sites and catalogs. After loading data in the eCommerce system, we ran Product Sync and made catalogs for a multi-site instance of Sitecore. There was no additional effort syncing Harbinger Fitness data in Sitecore.

N-Level Theming Engine:

SAFIC architecture supports n-level theming. That means, we can build multiple levels of theming and reuse pages from any level. SAFIC out of the box comes with B2C and B2B theming and most of the time pages from these themes work fine. Harbinger Fitness used a B2C theme and some custom theme pages were built in the foundation for extending SAFIC. There was no additional development effort there.

SAFIC Components:

SAFIC Sitecore components are built using Sitecore best practices. Modularity of the components along with the flexible information architecture made it possible to use these components with minimum customization.

SAFIC Features:

SAFIC comes with many out of the box Sitecore and eCommerce features. These features helped us to build the site quickly and helped us to be consistent in building multiple brand. To know more about SAFIC features please visit here.
We are very excited with the success so far with SAFIC and excited that our customers are extremely happy and see value of using SAFIC. We will be launching more brands soon. Stay tuned.