Introducing Nish Tech Digital Bytes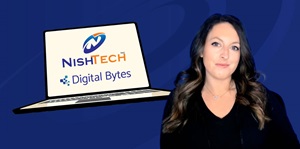 Posted by Andy Klein
A few months ago we started brainstorming about different ways we could share tips, tricks, ideas and other meaningful bits of information with the digital community. Out of those sessions Nish Tech Digital Bytes was born.
Our host, Lindsey Schmidt, is one of our digital project managers and has been working for Nish Tech since 2016. Prior to that Lindsey spent 7 years as an Implementation Specialist for Insite Software, which is now Episerver (Optimizely) B2B Commerce Cloud. It turns out she's also a natural on camera, although she swears she's never hosted a web series before.
Lindsey is going to share her extensive knowledge about eCommerce and project management in particular, but is also going to introduce you to other members of our incredibly creative and talented team that will share their expertise spans eCommerce to web development, project management, marketing technology, content management, and more.
We are so excited to finally roll this out and share it with all of you. Stay tuned for more episodes of Nish Tech Digital Bytes - bite-sized videos for easy consumption.