Nish Tech Announces 2021 Sitecore Most Valuable Professional Awards
Posted by Andy Klein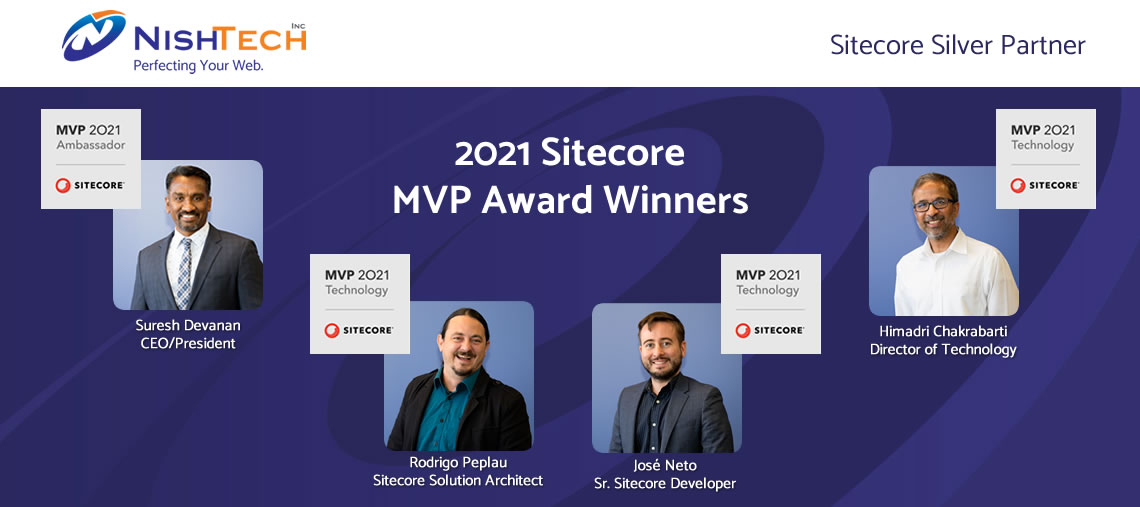 In the MVP program's 15th year, the elite group of professionals are recognized for their dedication to the Sitecore community
CINCINNATI, January 28, 2021 - Nish Tech, Inc., a leading enterprise technology digital agency, today announced that Suresh Devanan, Himadri Chakrabarti, Rodrigo Peplau, and Jóse Neto have all been named a 2021 Most Valuable Professional (MVP) by Sitecore®, the global leader in digital experience management software. The recipients are being honored among only 170 Technology MVPs and 81 Ambassadors worldwide in the program's 15th year.
Recognizing professionals who deliver outstanding customer experiences through shared expertise on Sitecore's products, the 2021 MVP program draws from a community of 12,000 certified developers and over 20,000 active participants. This year's 284 MVPs contributed invaluable knowledge to the community in 2020 and demonstrated true mastery of the Sitecore platform to support partners, customers and prospects.
Suresh Devanan, CEO and President of Nish Tech has been named as a Sitecore MVP in the Ambassador category, the third consecutive year he has earned the distinction and seventh consecutive year he has been named as an MVP. The Ambassador category recognizes exceptional professionals who demonstrate solid knowledge of the latest Sitecore offerings and who provide value for Sitecore by influencing partners, industry, customers and decision makers with product feedback, references and case studies.
Himadri Chakrabarti, Rodrigo Peplau, and Jóse Neto have all been named as a Sitecore MVP in the Technology category. This award is given to a select group of individuals worldwide with seasoned technical experience who actively participate in online and offline communities to share their knowledge and expertise with developers, marketers, strategists, Sitecore partners and customers. This represents the seventh consecutive year Chakrabarti has been named as an MVP, the sixth consecutive year for Peplau, and the fourth consecutive year for Neto.
"It is humbling beyond words to have our accomplishments once again recognized by Sitecore," said Devanan. "The fact that the four Nish Tech MVPs have been recognized multiple times reflects our continued dedication to the success of the Sitecore community. We use the strength of our Sitecore partnership to empower our customers' success in their own digital journeys."
Nish Tech excels at creating efficient and agile digital solutions to execute our customers' marketing strategies and eCommerce plans. We understand brands have different needs, so we offer completely customized services to help better optimize their customer experiences. Whether it's through front-end design, building dynamically changing promotional content for target users, or implementing back-end management tools that would help with engagement automation, we can help brands establish human connections with the Sitecore Experience Platform.
"The 2021 Sitecore MVPs consist of stellar individuals who demonstrated incredible commitment to the Sitecore community during a challenging year which didn't allow for in-person engagement," said Tom De Ridder, CTO of Sitecore. "The 284 MVPs stepped up to the plate to bring critical knowledge and insights for the greater community through virtual channels. We are especially pleased to celebrate this group in the program's 15th year."
The Sitecore MVP Award celebrates the most active Sitecore community members from around the world who provide valuable online and offline expertise that enriches the community experience and makes a difference. Each year, the Sitecore MVP Awards recognize individuals with a passion for sharing their knowledge and expertise through active participation in online and offline Sitecore communities. More information can be found about the MVP Program on the Sitecore MVP site.
Nish Tech is a full-service digital agency that has been helping brands gain a competitive edge in their industries since 2011. We use enterprise technology and big data to deliver personalized web experiences and drive business growth. Our team of experts help define and build online strategy and turn brands' expectations into reality. We focus on understanding our clients' business needs and finding ways to meet them. It may be business, but we make it personal. For more information, please visit nishtechinc.com.