6 Ways to Level Up Your Customer Service Game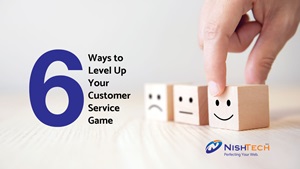 Posted by Lindsey Schmidt
One thing I'm really passionate about is building and maintaining exceptional client relationships. For me, it goes beyond short term customer service and satisfaction - it's about building trust, being accountable and going the extra mile to provide the best possible customer experience.
As a Project Manager, my clients and my team are at the heart of what I do, and I know firsthand that things can get a little crazy when implementing a new e-commerce solution. There are schedules to coordinate, deliverables to track, requirements to scope, teams to lead, risks to mitigate and hurdles to jump.
What makes it even more interesting is that every project is different, and so is every client. When it comes to the success of a project a one-size-fits-all approach to traditional customer service just doesn't work.
When I got my first "big girl job" implementing e-commerce websites, one big thing I learned changed the way I approach traditional customer service, and that was the notion of creating "raving fans".
If you think about it, the term "customer service" sounds lukewarm.
Of course, you want to provide excellent customer service, but let's be honest - happy customers are not on the same level as raving fans.
Let's compare: A happy customer might give you 4 or 5 stars on a Google search review. A raving fan wants to give you 5+ stars and share their exceptional experience with everyone they know and will likely give a glowing recommendation to someone in their circle looking for a similar product, service, or experience.
A happy customer might be good with a single experience, a raving fan is going to keep coming back (and maybe even bring a few more people with them next time). More than the product or service, people and companies pay for the experience and partnership.
With that said, building a trustworthy, long term relationship with a client doesn't mean you'll never face issues. It just means that when you hit a speed bump (and you will) you have a solid foundation in place where you can move forward and resolve the issue together. It lets them know that their success is your success, and that you're committed to being a partner and not just another vendor.
This concept can translate into any industry, whether you're working in a customer service call center, working at your local hardware store, or building a new B2B e-commerce solution.
No matter what company or role you find yourself in, here are six key things that I feel will take your customer service to a new level, will put you on the right path to building long lasting client relationships, and ultimately will help cultivate raving fans:
1. Transparency and sincerity
If you make a mistake, own up to it. If a problem arises, be transparent about it, but come with solutions in hand and a clear path forward. Do what you say you're going to do.
2. Communication
Be straightforward and to-the-point, but still friendly. When in doubt, over communicate; a client will never complain about being informed. Know your audience, and tailor your communication style to meet their needs.
3. Go above and beyond
The bare minimum doesn't get a customer excited. When it comes down to it, it's the little things that keep people coming back. Get personal and make it your mission to exceed expectations.
4. Be a problem solver
If there's a problem, fix it. If you can't fix it, be humble enough to enlist the help of someone who can.
5. Personalize the experience
Like every e-commerce project, every client and company are different. Get to know the client, their business, what's important to them, how they measure success, etc.
6. Be willing to get in the weeds
One thing I'm not ok with is surface level work. I'm that person who isn't afraid to ask the dumb questions, needs to understand the "why" behind the "how", and needs to understand what is going on in the middle of a project. Don't leave your clients in the dark or provide unsatisfactory updates. Make it a priority to understand the ins and outs of what's happening in your project or customer's account.
Keep these key things in mind the next time you have an opportunity to make your client's life easier or transform their experience from just lukewarm to exceptional.