Be a Digital Hero
Any marketer worth their weight in leads knows the benefits of personalization - and yet, a surprisingly large number of companies have not fully embraced this strategic tactic.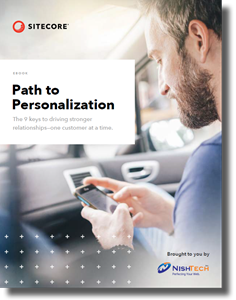 Do you know when to approach your customers? What about - and maybe even more importantly - when not to? These are two of the first questions to answer when developing a personalization strategy. Answering them requires not only knowing your customers' journeys but also discerning where they're at and how their unique situations affect each moment.
Download this free guide to help you get started down the Path to Personalization. In this guide you'll discover the 9 steps to perfecting your on-site personalization, key insights and industry best practices on customer journey mapping, the team you need, and much more.
By mastering personalization, you can be the digital hero your company needs.