PunchOut- How it can help put your B2B Commerce ahead of your competitors
Posted by hchakrabarti
PunchOut, also known as ShopOut, TapOut or RoundTrip is a process where a buyer's eProcurement site is integrated with a supplier's eCommerce site in a way that a buyer can directly order items from the supplier's catalog, without leaving the procurement site.
That's just a definition. To know why PunchOut is important for the supplier and for the ecommerce software to provide ability for the supplier to implement PunchOut, we need to understand how big organizations purchase items like stationary, software or equipment to run their own business.
I used to work at JP Morgan Chase. It's a company of more than a hundred thousand employees. Whenever we needed to buy a software or something similar for our work, we would have to go through the company's internal procurement site. The procurement site would allow us to purchase from the supplier, and also take care of the approvals, budgeting etc. For a company of that size, if all employees go and buy stuff for their needs from the supplier site directly, that would create havoc. For big organizations, they have their separate procurement department to handle purchases from suppliers. They don't want any employee to just log on to the supplier site and purchase items directly because that will create chaos and it will be a nightmare for them to control their budget. These companies usually adopt to a procurement system like SAP Commodity Procurement, Ariba Procure-to-Pay or Oracle Procurement and that handles their approval workflows, budgeting, cost center, reporting and many other things it takes to run a big organization. What works very well for these organizations is the online access to the supplier's site from their procurement system, so that, they can add items to the cart and checkout. This is only possible when supplier provides PunchOut in their ecommerce site.
There are two ways a supplier can implement PunchOut for an eCommerce system.
The first option is where ecommerce PunchOut is directly integrated with the Procurement Software. This means ecommerce needs to have separate PunchOut implementation for separate procurement systems. The second option is more flexible for the ecommerce system because it has to implement PunchOut just for the middleware and then middleware exposes the PunchOut catalogs to different procurement systems using the procurement system specific connectors. Most ecommerce software now support PunchOut. For example, InsiteCommerce provides PunchOut option via Supplier Solutions.
Here is a diagram I borrowed from InsiteCommerce site. It shows how PunchOut workflow works.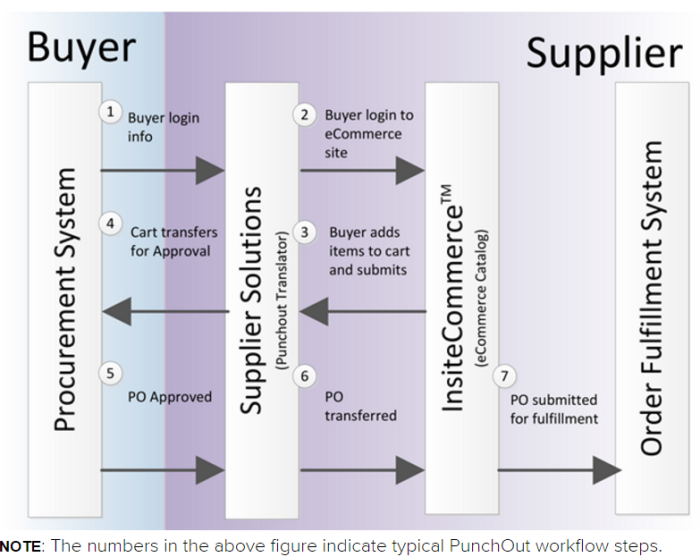 The implementation of PunchOut is a big differentiator for a supplier. If you as a supplier do business with big organization or government, it definitely will put ahead of your competitors. Here are some benefits of PunchOut.
Customer comes to supplier's website where supplier has complete control over customer's session. So supplier can capture customer's browsing behavior, learn more about the customer and use that for targeted marketing.
Supplier can show customer specific products and customer specific real-time pricing.
Supplier can use customer specific branding to provide a personalized shopping experience.
Customers see real-time pricing and availability. This solves the problem of incorrect ordering that happens with offline catalogs.
Since customer's procurement system is integrated with the supplier, it makes it easy for the customer to buy stuff and that gives a competitive advantage to the supplier.
Supplier can use cross-sell or up-sell to sell more products to the customer.
Most eCommerce systems provide features like Order Approval, Budgeting and Cost Center. That works fine for small organizations where purchasing directly from the supplier site is manageable. But, PunchOut is an absolute necessity for bigger organizations where multiple departments order items via a procurement system.