The Unified Shopping Cart - Digital Bytes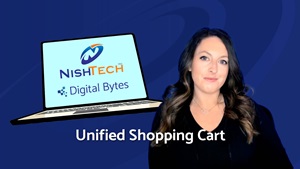 Posted by Andy Klein
Implus Brands, an innovative provider of products ranging from footcare and seasonal accessories to fitness and recovery solutions, challenged Nish Tech to develop a unified brand experience where customers could shop multiple storefronts but have a single shopping cart and checkout process. We were able to create a framework for our client that enables them to add new brands to their unified shopping experience effortlessly.
In this episode of Digital Bytes, Lindsey is joined by Nish Tech Senior Director of Technology Himadri Chakrabarti to get into the story behind the concept of the unified cart.
Click here to learn more about the Unified Cart project.