Accelerate your Optimizely B2B Commerce
Posted by Himadri Chakrabarti
When Optimizely acquired Insite Software, we saw an opportunity to build an accelerator that integrates their Content Management with B2B Commerce and provides the ability to rapidly build online commerce storefronts natively on Content Marketing CMS.
The Nishtech team was perfectly set up for this task because of our long experience in delivering many CMS and InsiteCommerce B2B projects. So, we took the challenge, and we're incredibly happy with the results.
What is the Accelerator?
Simply put, the Accelerator is a fully functional and customizable B2B commerce website that allows you to easily set up a product catalog and personalized, optimized supporting content, and start selling product in a matter of weeks.
So how did we do this? We built an entire Optimizely B2B Commerce website on top of the Optimizely digital experience platform using the Optimizely B2B Commerce API SDK.. In other words, we did the development work that is required to make the two platforms work together and produced a full website that you can roll-out using your own installation of Content Marketing and B2B Commerce.
What this means for you is that once your platforms are properly installed and configured, the Accelerator will serve as your new front-end using as many or as few UI customizations as you want. You can simply change the logo and some of the colors, or you can go ahead and add your own styles.
Regardless, we've cut down the time and money required to implement a robust online shopping experience because we built the connectors and site functionality for you.
Who Will Benefit from the Accelerator?
Before we go and talk about features in the accelerator, you would probably like to know if this accelerator will be beneficial to implement the B2B storefront for your business.
The target audience for the accelerator are brand-conscious manufacturers and distributors that currently have a CMS and are looking to deliver fully personalized commerce experiences, that need full CMS workflow and content creation capabilities across larger teams, or that need to facilitate rapid deployment of a personalized shopping platform.
Because the accelerator will help build your site natively on the Optimizely DXP, your storefront can take full advantage of robust features such as content recommendations, product recommendations, experimentation (A/B testing), and many more other services that are part of Optimizely DXP. Additionally, you can now unify your customer data through Optimizely Data Platform.
The accelerator we built comes with out-of-the-box B2B commerce features as well as integration with Optimizely DXP services. It will help your business to go to market quickly.
Fully Functional Ecommerce Features
Below are some of the most important out-of-the-box features of the Nishtech B2B Commerce Accelerator for Optimizely.
Product Browsing
The accelerator comes with a beautifully designed mega menu for browsing products by category. Product browsing includes all B2B commerce functionalities such as customer specific products, real-time pricing and availability, product filtering, searching within a category, product comparison, SEO friendly URLs, and more.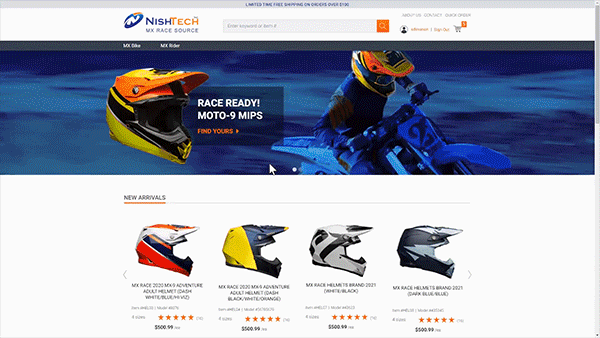 Product Detail Page
The product detail page has been designed to provide all information about the product in one place and makes it easy for the user to purchase the product, save it in a list, or share it with others. A collapsible tab design lets the user see product specifications and reviews without scrolling down. This page supports showing multiple images and videos of the product with image zooming functionality. The user can look at all associated attribute values in the main section with product availability and price. The page is SEO friendly and uses structured data using JSON-LD for promoting products.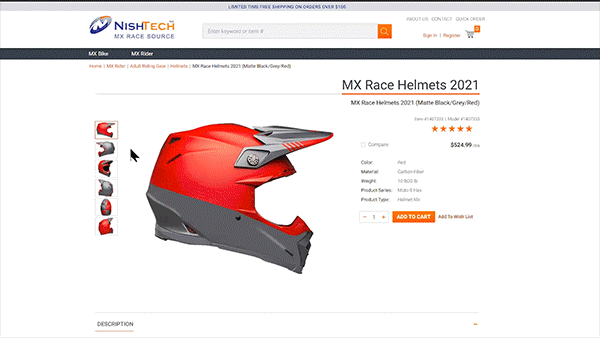 Product Comparison
The intuitive product comparison function allows users to compare products from anywhere within their shopping journey. As they browse the site, users can add up to 4 products to the comparison tool, and then see a side-by-side view of product attributes and specs.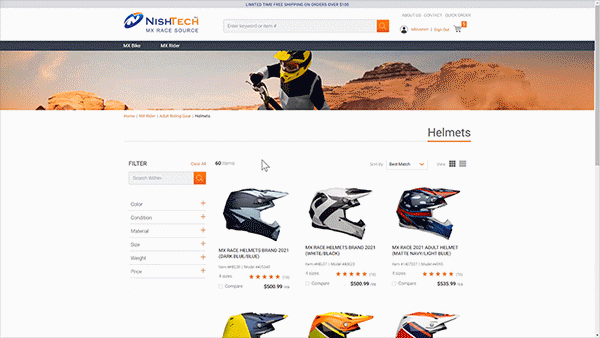 Product Filtering
When we designed category landing pages, we wanted to make sure it was easy for users to refine their searches. Configurable facets provide users with several ways to narrow down the list of products so they can easily and easily locate the products they need.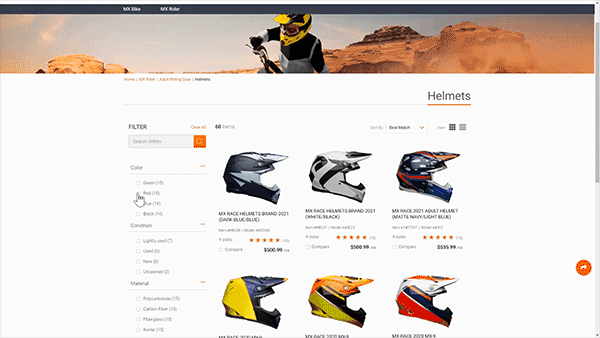 Quick Order
Where a B2C buyer may be looking to make a one-time purchase, a B2B buyer tends to purchase the same items over time, particularly if they are re-stocking inventory. The Quick Order function allows users to quickly search, locate, and add parts to a list which is then moved to the shopping cart with one click.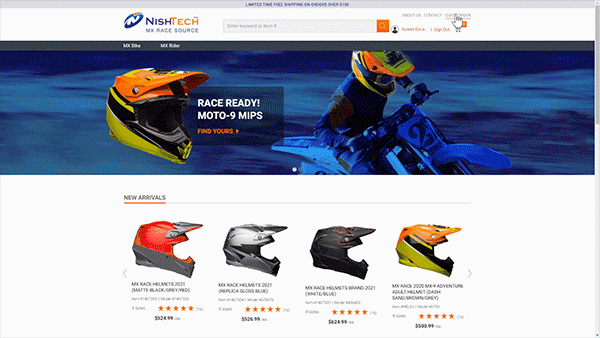 Order History
We designed two features for buyers who tend to re-order the same products in a single transaction.
The first is Order History. In addition to providing a full view of all transactions that have been completed, this feature also allows users to easily "copy" an entire order and move it to the shopping cart for rapid check out.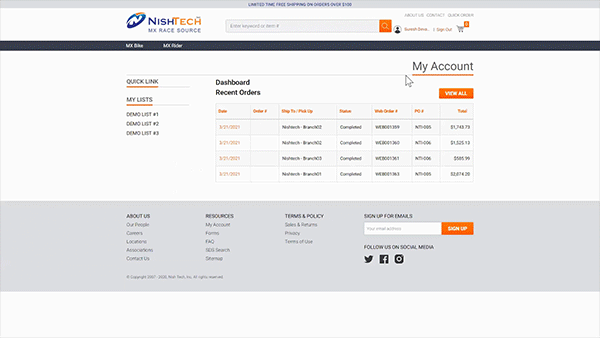 Wish List
The second feature we added to support re-ordering is the Wish List. A customer can use this functionality to build a "shopping list" of products that they purchase on a regular basis. Then, instead of having to add each item separately to the cart every time, the customer can simply navigate to their Wish List and add the entire contents with one click.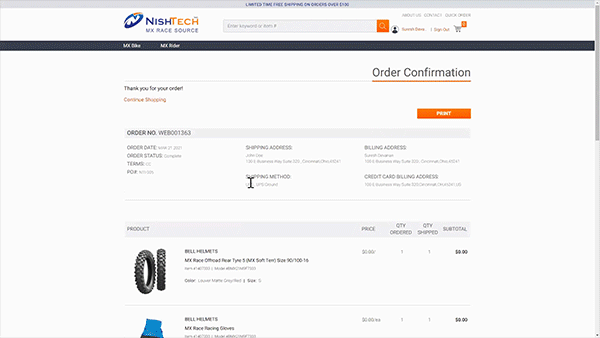 How do I get the Accelerator?
You can get more information about the Accelerator by visiting the Nishtech B2B Commerce Accelerator for Optimizely page on our website. Drop us a line and we'd be happy to work with you!