7 Ways that Personalization Can Enhance Your Digital Marketing
Posted by Nishtech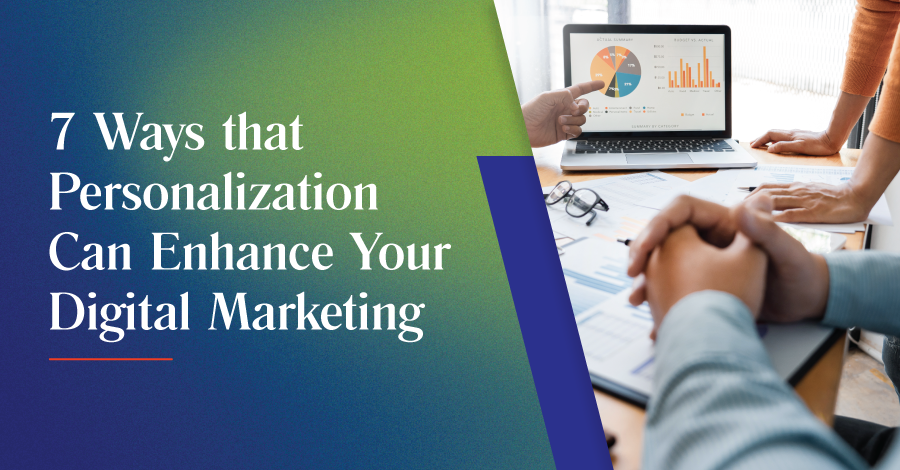 Learning how to stay competitive in the digital marketplace is vital for any ecommerce platform. To reach more people and drive more sales, understanding how to connect with customers is essential.
If you want to form lasting connections with customers that keep them coming back to your store and recommending you to their friends, then you need to learn how to use personalized digital marketing strategies. Personalization strategies cater to your unique customer demographics, which helps you close more sales and reduce your marketing expenses.
What Is Marketing Personalization?
Marketing personalization is the process of creating unique, catered experiences for your customers. Studies have shown that 71% of consumers prefer personalized ads, so learning how to leverage these tools can help take your business to the next level.
Marketing personalization is more than just targeted ads, however. This strategy involves nurturing one-to-one relationships with potential buyers. This process of nurturing shows the visitors on your site that you are invested in delivering a product that meets their unique needs. By catering your marketing materials to individuals, you're able to form more meaningful connections with customers and drive more traffic to your page.
An example of personalization is the way that Shutterfly accesses your photos when you download the app. Shutterfly will use the photos in the marketing and examples that you see when you are working in the app. Another example is the Whole Foods ecommerce app. It tracks and records the purchases that you make, and then customizes and designs the online shopping space using your purchase history so it is easier for you to reorder or find the products you want. Beyond that, the app takes your purchase history to make custom recommendations of other products. In this way, the ecommerce experience is even better than the brick and motor store because you are shopping in a store designed around you.
7 Ways that Personalization Enhances Digital Marketing
Personalizing your marketing efforts helps your customers feel heard, while also increasing the likelihood that they will connect with your message. If you are struggling to attract and maintain consistent customers on your site, then you may want to explore a more personalized approach. Here are seven ways that personalization enhances your digital marketing efforts.
1. Stronger Customer Connections
Forming strong connections with your customers is one of the best ways to promote the health of your company. When your customers become regulars, they not only spend more money on your products, but they are also more likely to recommend you to their friends and family. By connecting with customers on a personal level, you're able to leverage their social circle and lean on them as a source of free and effective promotion.
2. Improved Brand Identity
The best brand identities form from the reflection of the customers. By connecting with your audience through personalized marketing, you're able to create a more finely tuned brand identity. This type of marketing focuses on connecting with each buyer on a personal level, so by positioning your company in this way, you're able to create a comprehensive brand identity. Brand identities not only tell potential customers what your business is about, they also make it easy for your customers to connect with your products. By building a brand identity that mirrors your target demographic, it becomes cheaper and easier to connect with qualified leads.
3. More Cost-Effective Marketing
Marketing can be expensive. Spending hours crafting your message, gathering assets, and building campaigns is a costly process that takes time out of your day. While creating a successful campaign is an exhilarating, rewarding experience, the frustration of an ineffective message can be devastating. When you learn to use personalization strategies in your marketing, you can not only form better connections with customers, but you also reduce your spending. Traditional methods rely on casting out a large net and hoping to land some qualified leads. When using personalization, you trade the net for a more targeted, pinpoint approach.
4. Better Lead Generation
If you want to generate more inbound leads while spending less time and money designing your marketing campaign, you need to explore personalization strategies. Personalization helps you reach customers who are more likely to identify with your brand's message. Connecting with these leads lets you drive more traffic to your site while also reducing your bounce rate and increasing retention.
5. Enhanced Customer Retargeting
Understanding how to retarget customers who have previously purchased from your site can help you move more products and reduce your marketing budget. Making a sale is great, but true success comes when you've created a loyal customer base. Understanding retargeting strategies helps you avoid missed opportunities and maximizes your business's potential. Personalization strategies are an excellent way to retarget old leads since you know that they have previously connected with your message.
6. Increased Customer Loyalty
Customers are more likely to repeat transactions with companies they feel a connection with. When you use personalized messages in your marketing, you develop a relationship with your customers. Developing these relationships helps you retain customers and increases the likelihood that they return to your ecommerce page for more purchases.
7. Greater Marketing ROI
The bottom line for marketing personalization is that it increases your marketing ROI. Traditional methods are effective at reaching a lot of people but can fall short when it comes to actually connecting with your audience. Rather than spending money on a strategy that relies on the sheer number of people who see your ads, you can learn to leverage cost-effective personalization strategies. While personalized marketing won't connect with as many people as more traditional efforts, the connections you make will be of greater quality. Developing these connections not only promotes more sales, but helps you build the relationships that create your brand's unique story and identity.
How to Get Started with Marketing Personalization
If you've never worked with a personalization strategy before, it may be daunting to get started. Here are a few tips you can use when developing your personalized marketing campaigns:
Define the Scope of Your Strategy
The best personalization strategies have a clearly defined scope. This targeted approach to marketing works best when you understand what demographics you want to reach. When designing the scope of your personalization strategy, it's a good idea to focus on a few key buyer personas at first rather than targeting multiple types of customers.
Examine Your Existing Data
When designing your strategy, it's a good idea to work with the data that you've already gathered from your ecommerce platform. Examining the data you already have can give you an idea of what types of customers browse your site. It can also help you develop comprehensive product pages based on the types of customers who have purchased these products before.
Create Detailed Customer Profiles
Creating customer profiles is one of the most important parts of creating a personalized marketing strategy. Customer profiles provide details like age, gender, geographic location and buying habits. You can use these details to design marketing assets that target various demographics. The more detailed your customer profiles are, the more effective your marketing messages can be.
Invest in Analytics
When working on a personalized marketing strategy, it's important to leverage data and analytics to inform your campaign. Investing in analytical tools gives you the resources you need to track buyer journeys, develop comprehensive user profiles, and direct your marketing efforts. If you're interested in learning more about how you can use analytical tools to develop your data, you might want to explore some popular resources like Google Analytics.
Work with a Digital Experience Platform
Working with a digital experience platform can be a great way to streamline your marketing efforts. Digital experience platforms provide your enterprise with a central source of assets, content and customer profiles. Providing your team members with access to this information makes it easier to develop personalized campaigns for the audiences you want to target. Digital experience platforms not only give you a helpful repository for managing your marketing assets, but they can also provide the tools that help you create marketing campaigns and messages quickly and easily.
Work with the Experts at Nishtech to Develop Your Personalized Marketing Campaign
Don't spend any more time or money on ineffective marketing campaigns that fail to get the results you need. Our experienced digital marketing team understands how to craft a marketing message that increases your ROI while reducing operating costs. If you want to learn more about personalized marketing, or about all the other ways that we can help, contact Nishtech today.