Nish Tech Makes HUGE Investment in Training
Posted by nishtech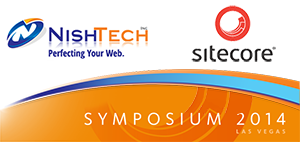 Seven Members of the Nish Tech Team will attend the 2014 Sitecore Symposium in Las Vegas, Nevada
August 28, 2014 (Cincinnati, Ohio) – For the first time in the company's history, Nish Tech Inc., an enterprise technology and digital agency specializing in implementing content management and digital marketing based web solutions, will be sending seven (7) members of our team to Las Vegas from September 8-10.
Investing in training is an important component for every company's future success, but when you are a small business striving to exceed the $1M revenue mark, it's a much larger investment than if you are a $500M company.
"Our people are our future; therefore, the best retention tactic for us is to ensure they are advancing their careers, continually learning and being challenged each and every day," stated Suresh Devanan, Nish Tech President, when asked about making this strong investment in his firm.
As a Certified Sitecore Solution Partner, Nish Tech strives to stay on top of all the latest technology advances, which helps the company outperform the competition by empowering the employees that are dedicated to the client's overall success.
With a focus on working alongside clients to execute the highest quality standards throughout the development process, Nish Tech satisfies the needs of each and every client, every time. Additionally, the team is committed to servicing a wide range of information technology needs and helps clients solve their IT challenges.
In addition to sending the Nish Tech team, the company is also investing as an Engagement Sponsor for this year's symposium. Sponsors of the event offer education and inspiration to help Sitecore partners engage, win and retain clients for life. This year's Symposium will help solve the science of marketing so the 1,200+ providers can focus on the art of gathering customer intelligence, building personalized experiences and delivering exceptional products to their clients.
To learn more about the 2014 Sitecore Symposium, to be held on September 8-10 at the Aria Resort and Casino in Las Vegas, visit www.sitecore.net/Events/SymposiumNA2014/Home.aspx.
To learn more about Nish Tech, visit www.nishtechinc.com.