Two Nish Tech Employees named Sitecore MVPs
Posted by nishtech
It's official and we're excited to celebrate Suresh and Himadri's award of being named 2016 Sitecore MVPs for the 2nd consecutive year!
Sitecore, the global leader in experience management software, announced the recipients today! Among the 177 people worldwide to be named a Sitecore Technology MVP this year, we had two employees on the list! This is amazing, considering there are more than 10,000 certified developers in Sitecore's global network and only 2% are recognized.
This prestigious recognition is something these two individuals strive to achieve annually, displaying the dedication to advancing their Sitecore knowledge and creating solutions that fit the client's needs.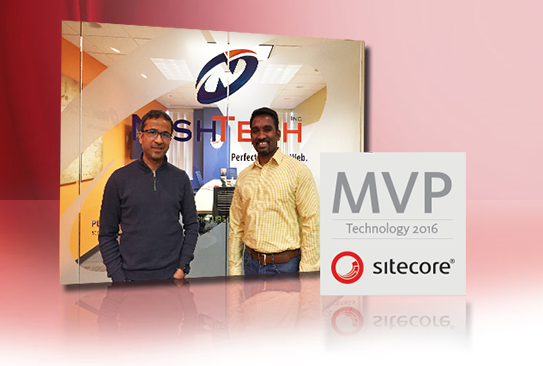 Knowing we are the only agency with two professionals awarded this prestigious honor from the state of Ohio creates a sense of pride and enthusiasm for us and our team! We don't see our contributions as award-winning, but more as a way to help advance the Sitecore community and ensure our clients are getting the best service!" stated Suresh Devanan, President, Nish Tech.
Understanding and advancing Sitecore is what we do every day for clients. By focusing on making greater impact for them, we are not only growing our client's business but we are also growing our agency.

Nish Tech is proud to be working alongside some of the best companies in Greater Cincinnati, as well as across the nation, who are advancing and transforming the digital experience. From eCommerce to marketing automation, these companies are standing out and being acknowledged for their strong revenue growth and flawless customer service.

About Nish Tech

Nish Tech Inc. is an enterprise technology and digital agency, that specializes in implementing Sitecore, Insite and custom eCommerce websites. Utilizing the latest innovations in technology and combining with digital marketing initiatives, Nish Tech provides a personalized, customized solution for their clients.


The Nish Tech Perfect IT (4P) Process™ ensures that their clients not only build the comprehensive web site they need, but a team will help devise the plan to promote products / services online, utilizing data automation, personalization, social media and engagement tools to transform the digital experience.

About Sitecore MVP > Learn More

In its 10th year, the Sitecore MVP Award celebrates the most active Sitecore community members from around the world who provide valuable online and offline expertise that enriches the community experience and makes a difference.

Each year, the Sitecore Most Valuable Professional (MVP) Awards recognize individuals with a passion for sharing their knowledge and expertise through active participation in online and offline Sitecore communities.