Nish Tech launches Cincinnati Insurance website
Posted by nishtech
Nish Tech, a full service Sitecore Gold Implementation partner, teamed up with The Cincinnati Insurance Company to provide services in support of replacing their existing web content management system with Sitecore. The primary objective of the project was to install and configure Sitecore as the web content management system for the company's public-facing website (cinfin.com).
The new website, launched in June 2015, is built using the industry-leading content management platform, Sitecore. This project involved migrating from their existing content management system to Sitecore's Web Experience Manager. This is an integrated platform built to provide the flexibility that Cincinnati Insurance Company demands. They wanted the ability to create content easily without coding. With Sitecore's Experience Editor, Cincinnati Insurance can now create content inline, right on a webpage, or leverage more robust features for workflow control, metadata management, and omni-channel page layout. Workflows were included for authoring, reviewing, editing, approving and publishing content and publish reviews.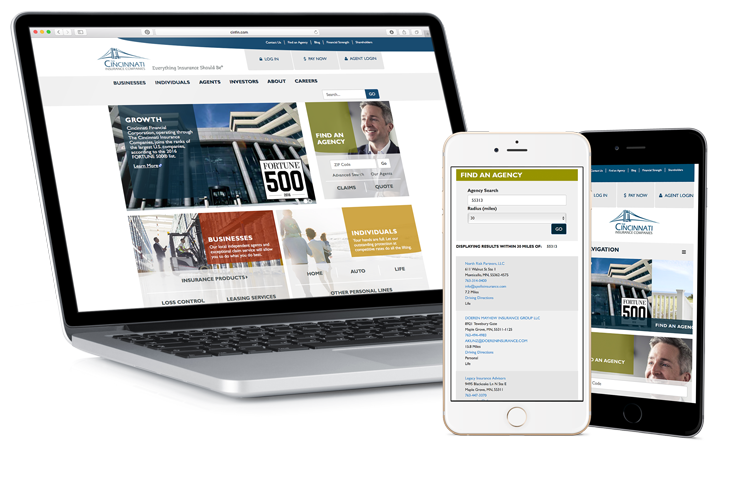 The website also features a responsive web design. This approach to web design is aimed at crafting sites to provide an optimal viewing experience for the user on any device. A site designed with responsive web design adapts the layout to the viewing environment by using fluid proportion-based grids and flexible images. This omni-channel automation delivers a connected user experience across each channel seamlessly.
About The Cincinnati Insurance Company
The Cincinnati Insurance Company stands among the nation's top 25 property casualty insurer groups. The group markets business, home and auto insurance products through a select group of independent insurance agencies in 40 states. The Cincinnati Life Insurance Company subsidiary activity markets life and disability income insurance and annuities.
About Nish Tech
As a Gold Sitecore Implementation Partner, Nish Tech's provides companies with the right team to ensure a seamless Sitecore experience. Nish Tech has deep industry knowledge to help build the online and technical strategy to meet our client's needs.