Nish Tech Inc Wins Four Sitecore "Most Valuable Professional" Awards
Posted by Nishtech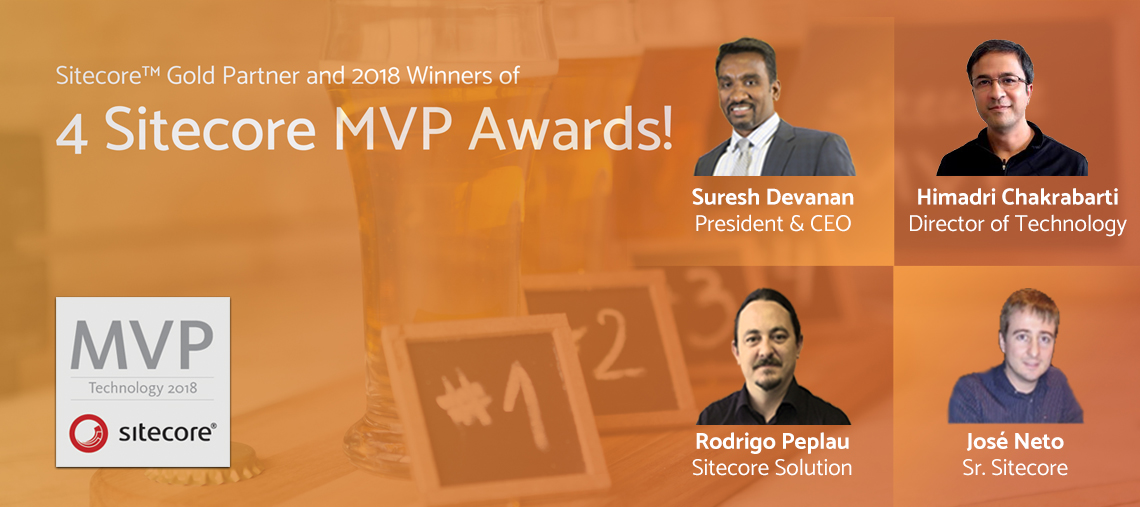 Cincinnati, OH, USA — January 31, 2018 — Nish Tech today announced that Suresh Devanan, Himadri Chakrabarti, Rodrigo Peplau, and Jóse Neto have all been named a "Most Valuable Professional (MVP)" in the Technology Category by Sitecore®, the global leader in experience management software. These four recipients are part of an elite group of only 208 Technology MVPs worldwide to be named a Sitecore MVP this year.
Now its 12th year, Sitecore's MVP program recognizes individual technology, strategy, and commerce advocates who share their Sitecore passion and expertise to offer positive customer experiences that drive business results. The Sitecore MVP Award recognizes the most active Sitecore experts from around the world who participate in online and offline communities to share their knowledge with other Sitecore partners and customers.
"I am honored to be named a Sitecore MVP for the fourth year in a row. I am very proud of Nish Tech's recurring MVPs (Himadri, Rodrigo and myself) for maintaining our MVP status by being actively involved in the Sitecore Community, and excited for our most recent hire Jóse Neto, as he earns MVP designation for the first time. We strive to share this expertise with our clients and the Sitecore community.", stated Suresh Devanan, President of Nish Tech.
Nish Tech excels at creating efficient, flexible digital solutions to execute web marketing strategies and eCommerce plans. Through system integrations of best-in-class technology, we strive to perfect your web presence.
"The Sitecore MVP awards recognize and honor those individuals who make substantial contributions to our loyal community of partners and customers," said Pieter Brinkman, Sitecore Senior Director of Technical Marketing. "MVPs consistently set a standard of excellence by delivering technical chops, enthusiasm, and a commitment to giving back to the Sitecore community. They truly understand and deliver on the power of the Sitecore Experience Platform to create personalized brand experiences for their consumers, driving revenue and customer loyalty."
The Sitecore Experience Platform™ combines web content management, omnichannel digital delivery, insights into customer activity and engagement, and strategic digital marketing tools into a single, unified platform. Sitecore Experience Commerce™ 9, released in January 2018, is the only cloud-enabled platform that natively integrates content and commerce so brands can fully personalize and individualize the end-to-end shopping experience before, during, and after the transaction. Both platforms capture in real time every minute interaction—and intention—that customers and prospects have with a brand across digital and offline channels. The result is that Sitecore customers are able to use the platform to engage with prospects and customers in a highly personalized manner, earning long-term customer loyalty.
Nishtech is a digital agency that strives to help our clients gain a competitive advantage in their industry. Using enterprise technology and big data we deliver personalized web experiences for our clients' site visitors. We focus on understanding our clients' business needs and finding ways to meet them. For more information, please visit www.nishtech.com for more information.
More information can be found about the MVP Program on the Sitecore MVP site