Nish Tech MVPs engage at SUGCON in London
Posted by Nishtech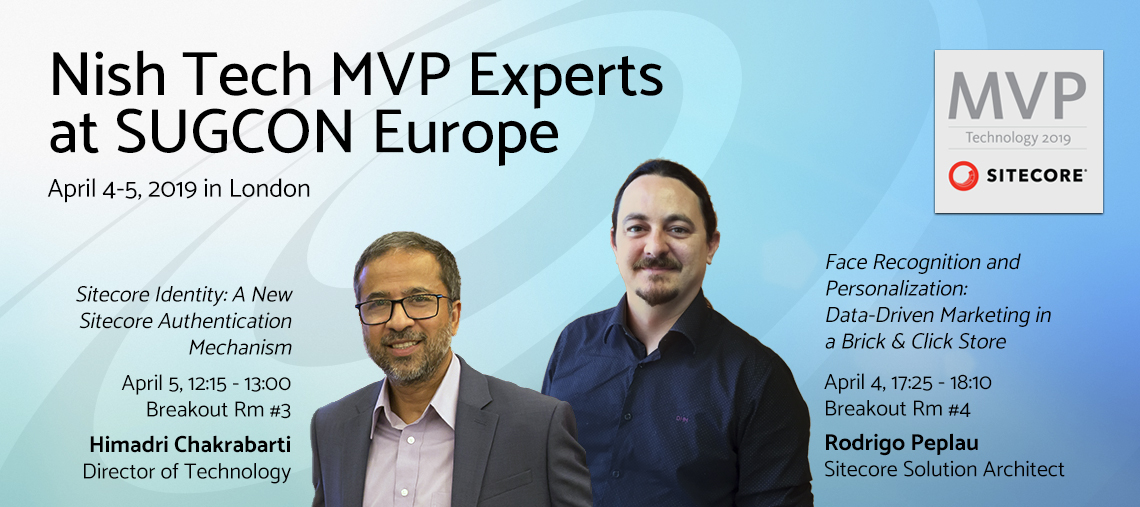 Cincinnati, OH (April 3rd, 2019) — Nish Tech, a leader in Sitecore implementations, is bringing their expertise to the 6th Annual SUGCON Europe, a multi-day conference running this year on April 4th and 5th in London. This conference brings together the development community to explore topics in four parallel tracks presenting over 40 sessions to an audience of about 650 attendees. The event also offers professional networking, Sitecore 9 certification opportunities, an award ceremony for a recently completed hackathon and recognition of the latest 2019 Sitecore MVPs.
Nish Tech is sending two MVP speakers this year to present cutting-edge technologies and research created in Nish Tech's lab.
Director of Technology at Nish Tech, Himadri Chakrabarti, will speak on the latest strides in service-based architecture enabled by the new Sitecore Identity (SI) feature in Sitecore 9.1. In this session, Himadri will discuss key OAuth 2.0 and OpenID Connect concepts and show under the hood implementation of Sitecore Identity based on IdentityServer4 framework. The presentation will conclude with a live demo to show how a third-party application can authenticate via the SI server.
Rodrigo Peplau, Sitecore Solution Architect at Nish Tech, will explore the Brick-and-Click potential using Sitecore's powerful Digital Marketing platform Utilizing facial recognition and XConnect, IoT devices (and more), transcending traditional rule-based personalization to utilize the latest advancements including Horizon and Cortex. The presentation will conclude with a live "book store" demo that recognizes shoppers via Nish Tech's nextgen Xface technology, using both online behavior and demographic information to provide a second-to-none customized shopping experience.
Nish Tech CEO, Suresh Devanan shares "Nish Tech embraces the strong Sitecore community and is honored to have two of our Sitecore MVPs presenting and collaborating at this successful European event."
More details about this event can be found at www.sugcon.eu.
About Nish Tech, Inc.
Since 2011 Nish Tech has been a digital agency who strives to help our clients gain a competitive advantage in their industry. Using enterprise technology and big data we deliver personalized web experiences for our clients' site visitors. We focus on understanding our clients' business needs and finding ways to meet them. For more information, please visit www.nishtechinc.com/SAFIC.
For more information, please contact Suresh Devanan at 513-469-8500 or info@nishtechinc.com