Nish Tech helps TestEquity Unveil a Best In Class B2B eCommerce Experience
Posted by Nishtech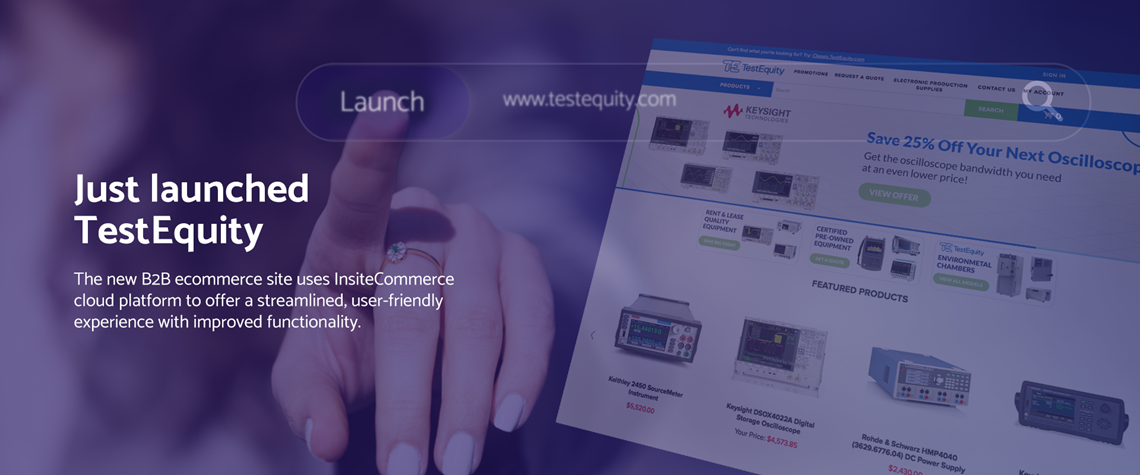 CINCINNATI, OH (June 19th, 2019) – Nish Tech is proud to announce the launch of TestEquity's best of breed eCommerce site, based on the leading InsiteCommerce cloud platform. Nish Tech, a Platinum InsiteCommerce Implementation Partner, uses deep eCommerce experience paired with proven processes to deliver next generation shopping experiences to their clients.

TestEquity, based in Moorpark California, has been delivering over 45 years of distribution expertise to their customers. Being a customer focused organization, bringing an updated shopping experience to their buyers was paramount to TestEquity. Finding a trusted implementer is key to this transformation; Nish Tech was up for the challenge. Nish Tech's approach escalates the working relationship to provide a true partnership, ensuring mutual successes.

Jeff Hileman, Director eCommerce for TestEquity explains,
eCommerce projects have unforeseen consequences. It's common for people to think it's merely an extension of the ERP, yet it's much more than that. For many companies, this is uncharted territory and a guide is required. TestEquity was fortunate enough to have NishTech as our guide through the new landscape.

Our project was particularly challenging," explains Jeff, "as business requirements were fluid. We were growing through acquisition and in the process of rolling out a completely new tech stack – eCommerce, ERP, CRM, BI, Marketing Automation, etc. This amplified the complexity of our engagement. In the end, Nish Tech led us to a successful launch which will enable us to grow our business and expand to new markets.

The new ecommerce site offers a streamlined, user-friendly experience with improved functionality including - simple account creation, mobile first design, real-time inventory, self-serve capabilities, and live chat with TestEquity experts. The new interface reflects the company's updated brand and represents a notable separation from classic B2B sites. Behind the scenes, a new integration with their ERP delivers real time information for availability and pricing, enhancing the experience and streamlining operations.

The TestEquity and NishTech partnership has established a solid foundation a TestEquity's multisite deployment to their other brands in the InsiteCommerce based solution. Nish Tech CEO, Suresh Devanan remarks,
Nish Tech partners to understand business needs of our customers and translate those into actional deliverables based on our years of eCommerce experience. From quality design to platform and integration expertise to understanding current and future needs, we pride ourselves on the caliber we bring to each engagement. From frequent referrals to many return customers, our proven processes are paramount to successful partnerships and eCommerce sites.
The site was piloted with several of TestEquity's clients and received very positive feedback. The official launch happened last week.
About TestEquity
TestEquity is a single-source provider for test solutions and electronic production supplies to enable customer innovation. TestEquity is a partner and trusted advisor to over 20,000 customers across aerospace and defense, automotive, communications, education, and medical industries. TestEquity's new, rental, and certified pre-owned solutions and services speed product time to market and lower cost of ownership. More information is available at www.testequity.com.
About Nish Tech, Inc.
Nish Tech is the most technologically advanced Insite Platinum partner in the world and specializes in delivering innovative, scalable, and secure web and e-commerce solutions to our clients. Our mission is to provide a competitive advantage, and help our customers run and expand their business efficiently. Nish Tech has extensive experience in providing leading web-based solutions, with the primary focus on advanced e-commerce solutions. Nish Tech's commitment extends well past the solution, cultivating lasting relationships that ensure success "after the launch," by providing ongoing collaboration, support and trusted guidance.

For more information, please contact Suresh Devanan at 513-469-8500 or info@nishtechinc.com