Nishtech Announces 2022 Sitecore Most Valuable Professional awards
Posted by Andy Klein - Director of Digital Marketing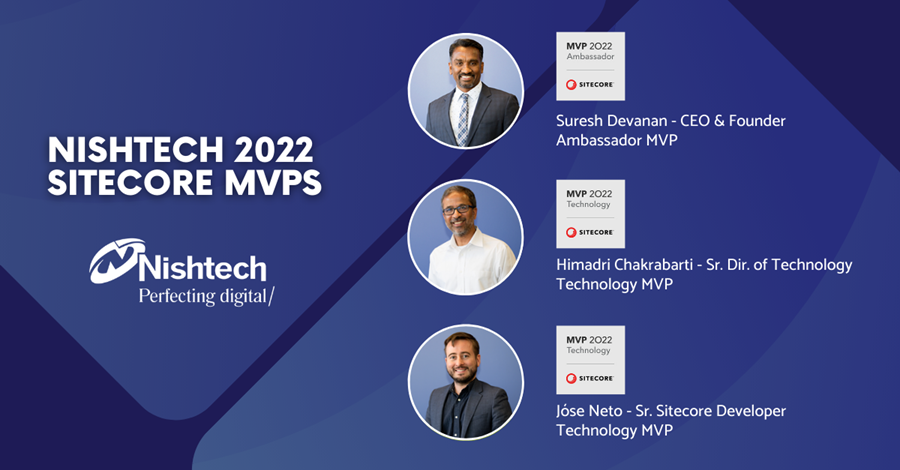 Elite distinction awarded for commitment and dedication to the Sitecore community
Cincinnati, OH, January 31, 2022 - Nishtech, a full-service e-commerce and digital experience consultancy, today announced that Suresh Devanan, Himadri Chakrabarti, and Jóse Neto have been named a Most Valuable Professional (MVP) by Sitecore®, the global leader in digital experience management software. The Nishtech honorees are among only 141 Technology MVPs and 63 Ambassadors worldwide to be named a Sitecore MVP this year.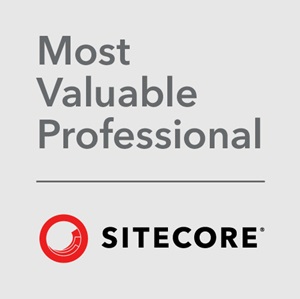 Recognizing professionals within the Sitecore community who actively apply their talent and expertise to help others best utilize Sitecore products to deliver premier customer experiences, the MVP program is now in its 16th year. Of more than 16,000 certified developers and over 30,000 active community participants, the 235 MVPs are truly an elite group. This year's MVPs were selected for the quality, quantity, and impact of the contributions they made in 2021, including the sharing of product expertise and mastery of the Sitecore platform to support both partners and customers.
Suresh Devanan, President and Founder of Nishtech has been named as a Sitecore MVP in the Ambassador category, the fourth consecutive year he has earned the distinction and eighth consecutive year he has been named as an MVP. The Ambassador category recognizes exceptional professionals who demonstrate solid knowledge of the latest Sitecore offerings and who provide value for Sitecore by influencing partners, industry, customers and decision makers with product feedback, references, and case studies.
Himadri Chakrabarti and Jóse Neto have been named as a Sitecore MVP in the Technology category. This award is given to a select group of individuals worldwide with seasoned technical experience who actively participate in online and offline communities to share their knowledge and expertise with developers, marketers, strategists, Sitecore partners and customers. This represents the eighth consecutive year Chakrabarti has been named as an MVP and the fifth consecutive year for Neto.
"Himadri, Jóse and I are incredibly proud to have been recognized once again with this prestigious honor. We truly value the benefits that Sitecore brings to our customers and this recognition reflects our dedication to the Sitecore community."

- Suresh Devanan, Nishtech CEO & Founder
Nishtech is a Sitecore Silver implementation partner that excels at creating efficient and agile digital solutions to execute marketing strategies and ecommerce plans. As a Sitecore partner since 2011 with Sitecore Experience Platform and Sitecore Content Hub specializations, we offer completely customized services to help businesses better optimize their customer experiences. Whether it's through front-end design, building dynamically changing promotional content for target users, or implementing back-end management tools that would help with engagement automation, we help brands build human connections with the Sitecore Experience Platform.
"The Sitecore community is one of our greatest assets. It's a highly collaborative environment where members freely share their knowledge and insights across numerous channels and at events. Sitecore MVPs stand out as community leaders who are dedicated to helping others build greater digital experiences for their organizations and customers. They are an invaluable resource and important part of the Sitecore user experience, for which we are truly grateful."

- Dave O'Flanagan, Sitecore chief product officer
More information can be found about the MVP Program on the Sitecore MVP site: http://mvp.sitecore.com.

About Nishtech
Nishtech is a global digital experience and ecommerce consultancy based in Cincinnati, Ohio that specializes in delivering innovative, scalable, and secure digital and ecommerce solutions. Nishtech has extensive experience utilizing a collaborative project approach with clients to develop rich, personalized experiences that drive business growth and perfect their digital presence. For more information please visit nishtech.com.