Nishtech's Suresh Devanan and Himadri Chakrabarti win 2023 Sitecore Most Valuable Professional award
Posted by Andy Klein - Director of Digital Marketing
Elite distinction awarded for commitment and dedication to the Sitecore community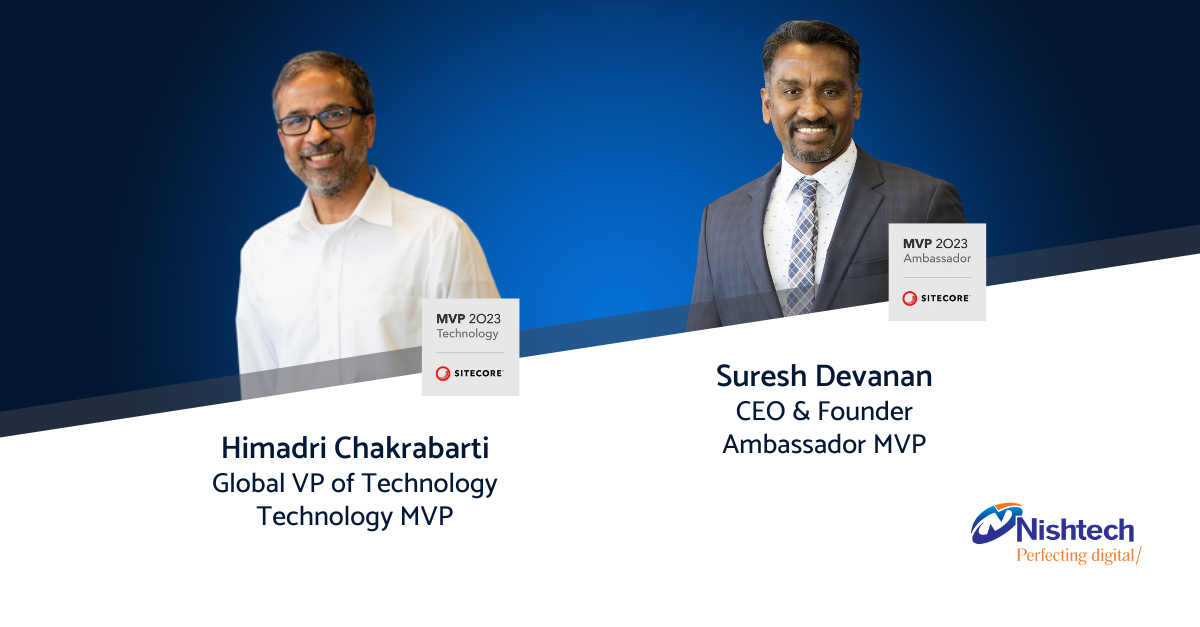 Cincinnati, OH, January 31, 2023 - Nishtech today announced that Suresh Devanan and Himadri Chakrabarti have been named Most Valuable Professionals (MVP) in the Ambassador and Technology categories respectively by Sitecore®, a global leader in end-to-end digital experience management software. Suresh was one of only 74 Ambassador MVPs and Himadri was one of only 137 Technology MVPs worldwide to be named a Sitecore MVP this year.
Now in its 17th year, the MVP program recognizes professionals who actively share their fascination, knowledge and expertise with online and offline Sitecore communities to help them best utilize Sitecore products to deliver premier customer experiences.
Selected out of more than 16,000 certified developers and over 30,000 active community participants, the 241 MVPs are truly an elite group. This year's MVPs were selected by a panel of Sitecore employees for the quality, quantity and impact of the contributions they made in 2022, including the sharing of product expertise and advanced knowledge of the Sitecore platform to support both partners and customers.
Suresh, CEO and Founder of Nishtech, has been named as a Sitecore MVP for the ninth consecutive year and fifth consecutive year as an Ambassador. Himadri, Global VP of Technology, has been recognized as a Sitecore MVP in the Technology category for the ninth consecutive year.
"Himadri and I are extremely proud to once again have been recognized as members of this elite group. The Sitecore community is unique and we are excited to continue to share our knowledge and experience."

- Suresh Devanan, Nishtech CEO & Founder
Nishtech enables companies of all sizes to provide modern experiences and meaningful data on demand for their audiences. We employ a collaborative project approach in which we proactively partner with our clients to deliver compelling experiences that are user-friendly and easy to maintain. Our focus is on helping brands create meaningful connections with their customers.
"We're pleased that for the seventeenth time we're honoring experts who have distinguished themselves through their technical acumen and dedication to helping others build great digital experiences. We continue to be impressed by the passion with which the MVPs share their professional and technical expertise and experience with customers and partners. They're an invaluable asset to the global Sitecore community, and we're truly grateful for their unique contributions."

- Dave O'Flanagan, Sitecore chief product officer
More information about the MVP Program can be found on the Sitecore MVP site: http://mvp.sitecore.com.

About Nishtech

Nishtech is a global digital experience and ecommerce consultancy that specializes in delivering innovative, scalable, and secure digital and ecommerce solutions. As a Sitecore Gold partner with Sitecore Experience Platform, Sitecore Content HubTM, and Sitecore OrderCloud® specializations, we develop rich, personalized solutions that help businesses better optimize their customer experiences, drive business growth and perfect their digital presence.